In the fast-changing world of Public Relations, having a PR calendar that helps you plan, schedule and execute your PR activities is critical to the success of your PR strategy.
This PR calendar will tell you about all upcoming important dates, themes, and opportunities for PR (Public Relations). Once you identify the dates that are important for you, you can:
1. Prepare for launches: You can generate the maximum buzz for your product/service launches by planning ahead for ideas and pitches.
2. Use awareness days and causes: Today's businesses need to stand for a cause. Thus, it becomes critical to keep a track of the scheduled awareness days and weeks to use the opportunity for getting your business the attention it needs.
3. Coordinate with other marketing activities:By planning ahead, you can coordinate your PR with other marketing activities. For eg: you could do a blog post on a topic related to a featured article and align your social media activities accordingly
4. Maintain a consistent flow of PR activities: You can build a consistent momentum of PR activities instead of just relying on one-off peaks. The consistent coverage will help you stay visible over a prolonged period of time and enhance your credibility as a business.
---
August 2021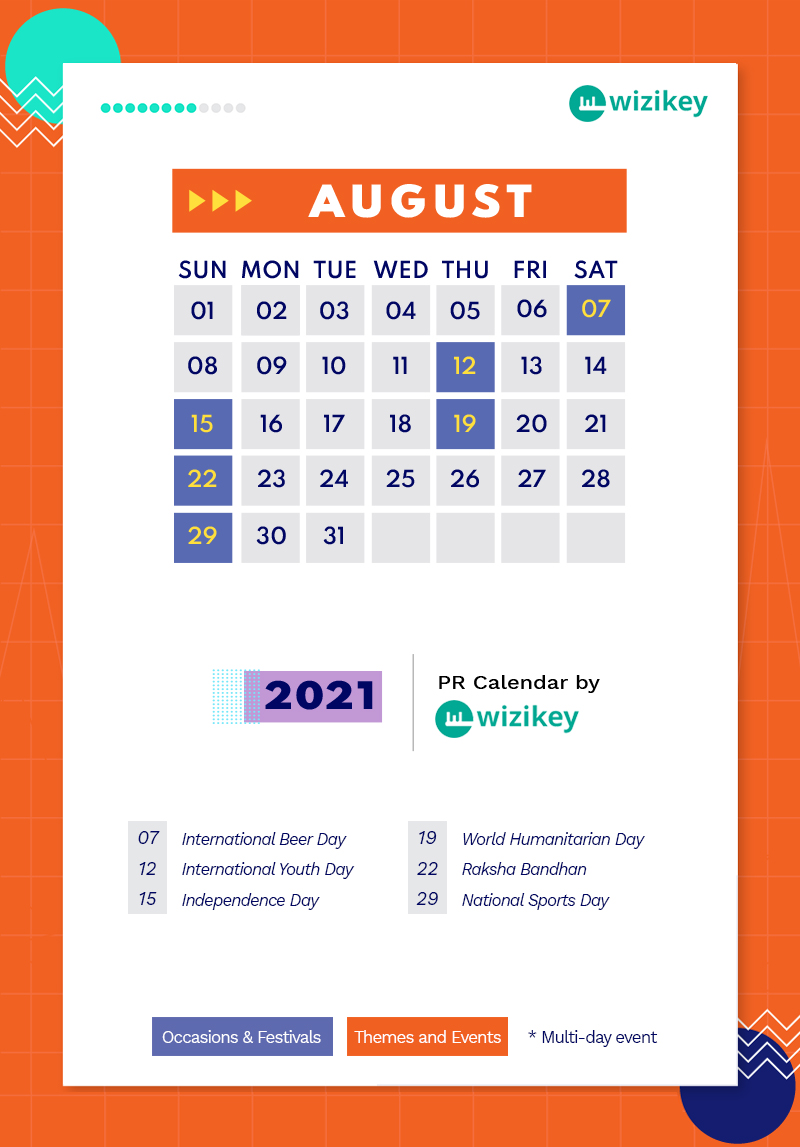 International Beer Day (7 August 2021)

International Beer Day appreciates all forms of beer produced around the world. Companies that sell beer or items accompanied by beer usually become active on this day.
International Youth Day (12 August 2021)

This day celebrates around 2 million youth present in today's world. Each year the UN outlines a new issue concerning the welfare of youth.
Independence Day (15 August 2021)

This day will mark 73 years of freedom from the British for India. Brand campaigns focus on celebrating the country and arousing patriotism in their customers through PR.
World Humanitarian Day (19 August 2021)

Humanitarian personnel who lost their lives serving humanitarian causes are remembered on this day. Brands also show their appreciation and encourage people to participate in humanitarian acts.
Raksha Bandhan (22 August 2021)

Raksha Bandhan is a celebration of the bond between brothers and sisters. Brands start promoting their products as ideal gifts a few weeks before Raksha Bandhan begins.
National Sports Day (29 August 2021)

Dedicated to Major Dhyan Chand, an excellent hockey player, India celebrates its national sports day. Sports events sponsored by companies take place on this day.
---
September 2021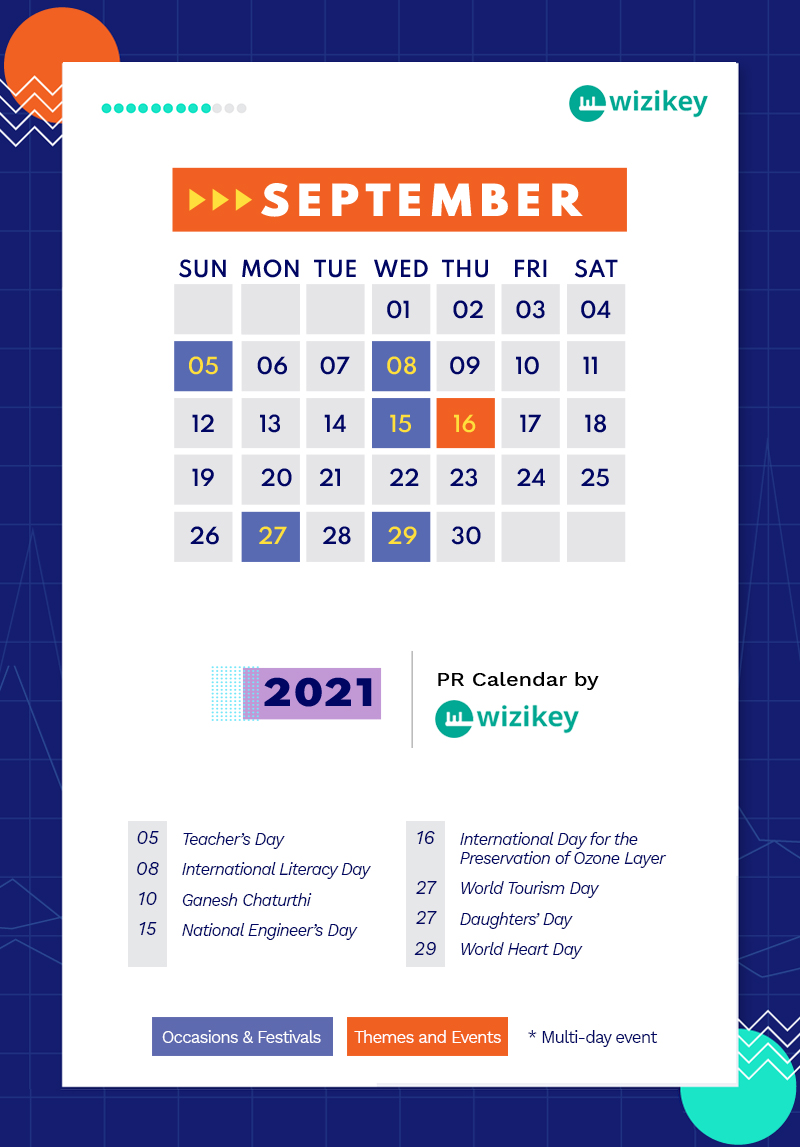 Teacher's Day (5 September 2021)

Teacher's day honours all teachers, mentors, and guides in our lives. It was originally celebrated in the memory of Dr. Sarvepalli Radhakrishnan. Brands launch many campaigns that celebrate the role of teachers in the student's lives.
International Literacy Day (8 September 2021)

The importance of literacy is underlined on this day. Brands focus on showing the power and need for literacy and the role it can play in the growth of a developing country like India.
Ganesh Chaturthi (10 September 2021)

The birth of Ganesha, the Hindu God associated with abundance and wisdom is celebrated on this day. News around the celebration of this festival (especially in Maharashtra) spreads during this time.
National Engineer's Day (15 September 2021)Sir Mokshagundam Visvesvarayyaer was one of the greatest engineers of India and his birthday is now celebrated as the engineer's day of India. Brands use this day to target students and professionals working as engineers.
International Day for the Preservation of Ozone Layer (16September 2021)

This day is a reminder that the depletion of the Ozone Layer is one of the biggest environmental concerns faced by the world today. Brands do stories that focus on how pollution can be reduced in the world.
World Tourism Day (27 September 2021)

This day highlights the importance of tourism for countries' economies and humans too. Hotels, airlines, and other companies that profit from tourism are in the spotlight on this day.
Daughters' Day (27 September 2021)

This day is a celebration of the bond between parents and their daughters. Brands come out with many campaigns focusing on women on this day.
World Heart Day (29 September 2021)

World Heart Day raises awareness about heart problems and encourages people to get an early diagnosis through periodic testing.
---
Wishing you lots of fun and luck in planning your calendar! Let us know if there's a date you would like to see featured on our list or if there's a story you would like to share?