Special Coronavirus Package Amounting 20 Lakh Crores Announced for fighting COVID19 economic impact. The equivalent of 10% of India's GDP – $260 Bn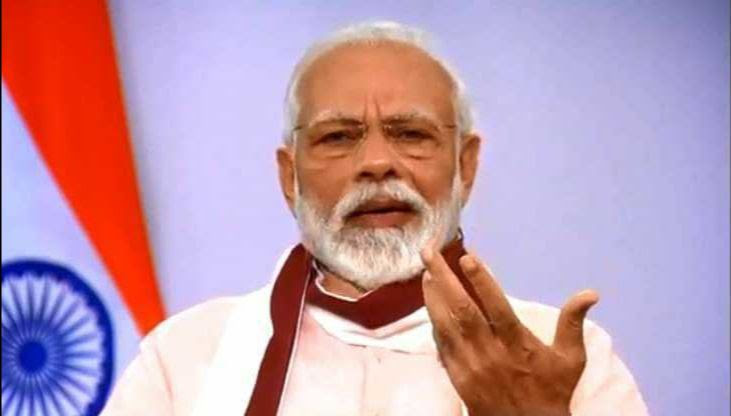 Key Highlights –
The situation as of now – How are we tackling it?
India is doing well to tackle the coronavirus situation as compared to more developed and resourceful nations.
One virus has destroyed the world. We had never seen or heard about such a crisis ever before. This is unimaginable for mankind. This was unprecedented. But humanity will not accept defeat from this virus. We have to not only protect ourselves but also move forward.

Globally, more than 42 lakh people have been infected by a coronavirus, more than 2.75 lakh people have lost their lives due to the virus. In India too several families have lost their dear ones, I express my condolences to them.

Before the outbreak, not a single PPE or N95 masks were made in India, but now we are making at least 2 lakh of PPE and 2 lakh N95 daily.

Prime Minister emphasized on the usage of locally manufactured goods and Supply Chain technologies to be made more self-reliant.

There is only one solution for all the problem: Self Sufficiency and Self Reliance. Meanwhile, the definition of self-sufficiency is changing day-by-day. The 5 pillars of Self Sufficiency are:
Economy 2. Infrastructure 3. Technology Driven System 4. Demography 5. Demand
Special Economic Coronavirus Package Announcement
A special Economic Package amounting to 20 Lakh Crores including the earlier package announced by Finance Ministry and RBI was announced. The economic package consists of 10% of India's GDP.

The main focus of the package would be on MSMEs, Small Industries and Workers, Senior Citizens and others.

Details of the package would be announced by the Finance Minister tomorrow.

Four important aspects of the package include:
1. Land 2. Labour 3. Liquidity 4. Laws
Lockdown relaxations
After proper evaluation, there can be some leniency for essentials in the regions where there are no new cases for COVID-19.
The relaxations granted to certain areas during the lockdown will be conditional. Even if one such case is reported, the leniency will be retrieved.
4th Stage of Lockdown
New rules and guidelines for Lockdown 4.0 will be announced before 18th May.

Prime Minister also emphasized upon the financial reforms which the government is planning to come up with to make India self-reliant.

Prime Minister appealed everyone to adopt locally manufactured goods in our lifestyle.

He also said that We need to be more Vocal about Local.
Here is how Media covered it –
New York Times – Modi Announces $260 Billion Coronavirus Rescue Package for India
Al Jazeera- India's Modi announces $270bn coronavirus package
US News – India's Prime Minister Announces Huge Virus Relief Package
South China Morning Post – Modi announces US$270 billion economic relief package; Putin's spokesman contracts Covid-19
Bloomberg – Bonds in India Slide as Modi Stimulus Adds to Market Angst
Financial Times – Modi unveils $266bn stimulus package to revive Indian economy
News 18 – Congress Dubs PM's Eco Package Announcement Headline Grabbing, BJP Says it Will Make India Self-reliant
Republic World – Paresh Rawal, Anupam Kher Hail PM Modi's Economic Package; Back 'Aatmanirbhar Bharat'
Outlook India – Khattar hails PM Modi for 'world"s most holistic package'
NDTV – PM's Economic Package Modelled On UK Fiscal Stimulus: Sources
We at Wizikey urge you to communicate during these pandemic times. Here are a few tips to get you started. And should you need any advise? Your Wizikey team is keen to help!