The Ultimate PR Calendar for 2020 is here! Access it by clicking here.
Wizikey Ultimate PR Calendar for Indian Market 2019
The Ultimate PR Calendar for India 2019 helps you plan activities timely with which you can grow your business with PR. Schedule & Execute Easily. The most comprehensive 3000+ words detailed Public Relations calendar every PR professionals can use to quickly schedule their brands/ clients annual plan in 2019 specially for India.
What you will get from this post:
5 Reasons why every Brand/Client needs a PR calendar.
Why Not having a PR Calendar is disastrous for your Brand in 2019
Key dates of every month from January to December of 2019 when you have a higher chance of getting coverage from media
How Public relations team and their agencies can plan every month for your PR and thus avoid the last-minute hassles
You already know that creating regular stories is the key to building your brand and get noticed. In fact, one of the greatest ways to make a dent is to use a PR calendar in 2019. Going beyond the basic scheduling, Wizikey's PR calendar sets out exactly what you need to do, and when, and also highlights the opportunities that are up and coming that you can jump on to get more eyeballs on your business in 2019.
For this reason, Wizikey has prepared an annual ultimate PR calendar 2019 for India. Before diving deep into the elements of the PR calendar, let's find out the benefits of using it and learn the importance of getting ready for the most gainful dates.
5 reasons your brand or business needs a PR calendar
If you have any announcement of launches – new products or services or initiatives, you can contact the media well in advance. Publications, especially magazines work three months in advance, and longer, and with that knowledge, you can plan ahead for ideas to present and pitch.
There are a number of scheduled awareness days and weeks and those can provide an opportunity for getting your business the attention. You need to think wider than your specialist area – look at how your business can be creative in supporting initiatives or highlight its experience and staff as case studies. Once you have found the relevant awareness weeks and days it's much easier to plan out how you can use them. And, being the first to contact a journalist about them and offer them an angle or a story puts you in a good position because you're making their job as easy as possible.
You can more easily plan, coordinate and schedule activities to tie in with key themes – pitching to journalists, sharing your news announcements via social media, posting relevant blogs.
It creates a constant flow of activity that is much more effective than 'one off' PR hits. That momentum gives you the added bonus of producing coverage that you can then share with your followers and community. Being more visible enhances your credibility and reputation.
It helps you put the activities in place so that you can create PR opportunities without always relying on your own news or ideas to get noticed.
Why Not having a PR Calendar is disastrous for your Brand in 2019
If you haven't got a calendar then your efforts are ad hoc, random, you're responding in a 'pick up, put down' way that wastes time and effort. Why? Because you're continually trying to re-invent the wheel, you're building relations and then letting those relations go and then you have to spend time and effort to pick them up again. In fact we will urge you to read our latest post on "Why every Brand needs a PR strategy" to help you understand the importance of it.
The best time to build a relationship is when you don't need one.

– The same is true for all Media relations. Build it advance, build it now. With Wizikey you can know who is the important Journalist covering your domain.
Now let's dive right into the Ultimate PR Calendar for India 2019.
Ultimate PR Calendar for India: January 2019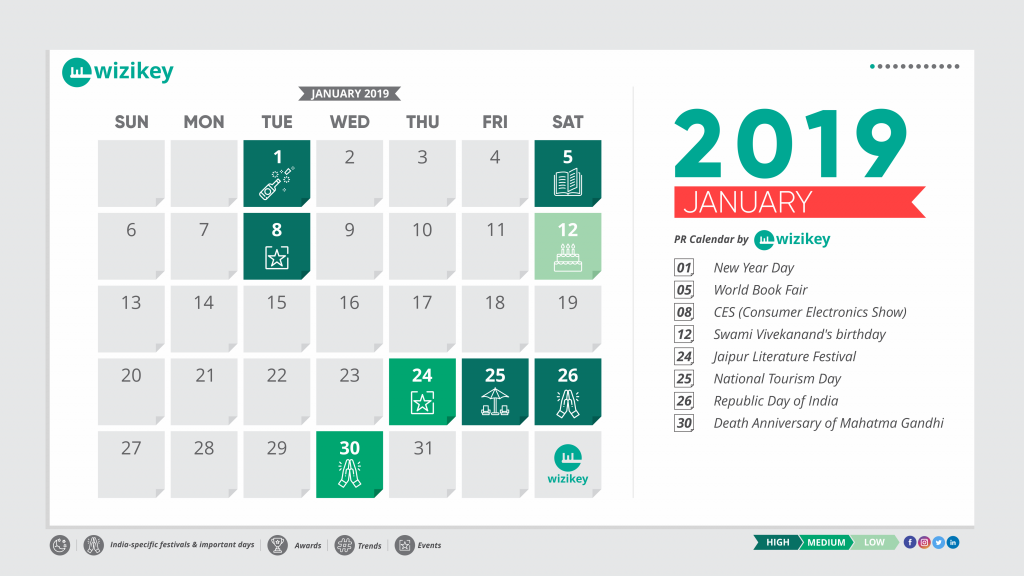 New Year Day (January 01): First day of the year which marks the beginning of a new era. Brands revisit plans, map upcoming trends and lot of discussions on developments.
World Book Fair (January 05): It is India's one of the oldest book fair with a plethora of books of various genres. All the publishers must participate in the book fair.
Consumer Electronics Show (January 08): CES is an annual trade show organized by the Consumer Technology Association (CTA), it attracts the world's business leaders and pioneering thinkers. If you are interested in consumer tech space, this is the place to be!
Swami Vivekanand's birthday (January 12): Since Vivekananda was a leader whose ideals inspired the country's youth, his birth anniversary is also celebrated as National Youth Day. News on how it is celebrated across different parts of the country.
Jaipur Literature Festival (January 24): One of the largest literary festivals, JLF brings together a diverse mix of writers, poets, thinkers, politicians, business leaders, etc. on a common platform to express and engage in meaningful content. It runs for 5 days and is scheduled from 23rd-27th January. Lot of buzz in the news about happenings in the festival. A great way for brands to leverage and build thought leadership
National Tourism Day (January 25): It is a day that has been marked by the Indian government in order to promote tourism within the country. News coverage around culture and uniqueness of different places in India. It is a good time to share consumer reports by clients in the travel & tourism industry.
Republic Day of India (January 26): The day when the constitution of India was formed. Huge gathering around the country, especially addressed by political leaders and government. Brands across the country channelise their creativity in the form of campaigns on Republic Day.
Death Anniversary of Mahatma Gandhi (January 30): Mahatma Gandhi, Father of the Nation was assassinated on 30th January 1948. He was shot by Nathuram Godse. A lot of articles on Mahatma's journey and contribution to the nation. News coverage largely based on opinion articles.
Ultimate PR Calendar for India: February 2019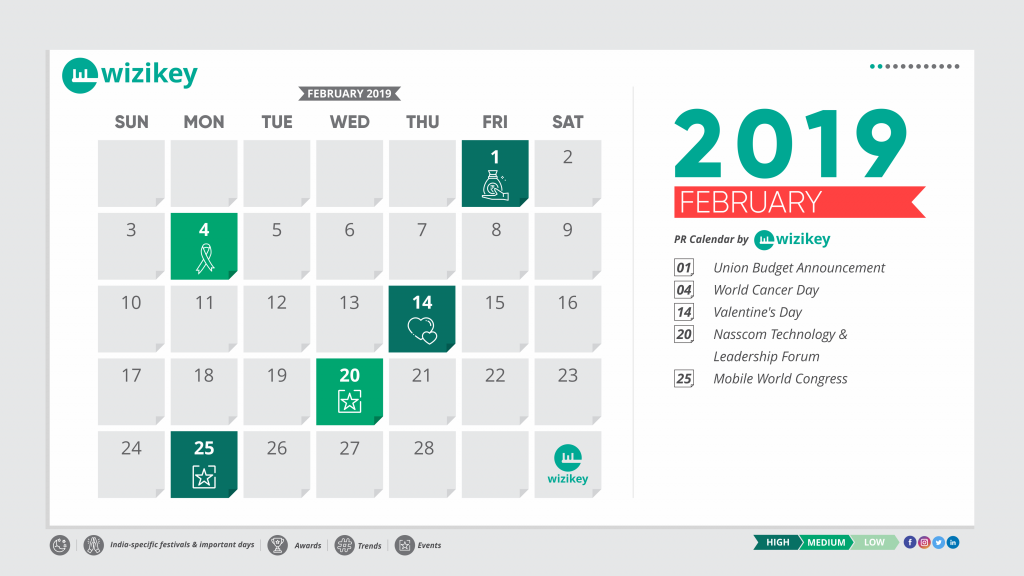 Union Budget Announcement (February 01): A landmark day when the ruling government announces budget for the financial year. Decisions related to different sectors and areas that impact the lives of citizens, brands and businesses. Budget reaction quotes from various sector point of view.
World Cancer Day (February 04): World Cancer Day is an international day marked on February 4 to raise awareness of cancer and to encourage its prevention, detection, and treatment. News on raising awareness around Cancer.
Valentine's Day (February 14): Valentine's Day is a globally recognized day marking its significance in cultural, religious, and commercial celebration of romance and romantic love. Brands show their creative powers by doing innovative campaigns and getting media mileage.
Nasscom Technology & Leadership Forum (February 20): This event is known as Asia's biggest leadership conference where you will see who's who of different industries across the globe. News coverage around participation in the event.
Mobile World Congress (February 25): Mobile World Congress is the biggest mobile event of the year, seeing the launch of many of the year's top smartphones, smartwatches and tablets, as well as seeing the emergence of the hottest new trends in mobile. Opportunity for tech and mobile brands to participate and gain visibility.
Ultimate PR Calendar for India: March 2019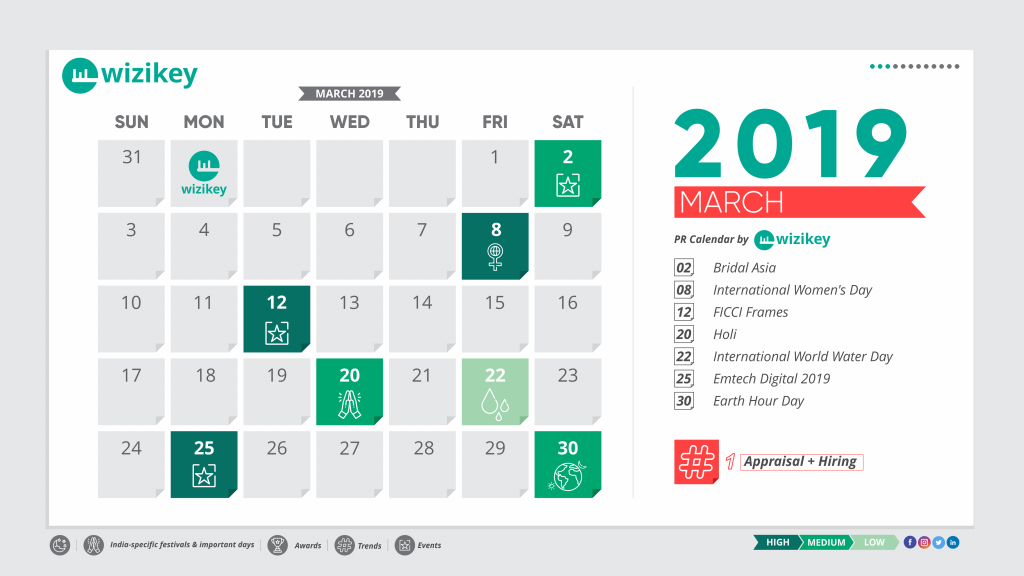 Bridal Asia (March 02): What started as a small showcase of trousseau collection under one roof has become a much awaited and prestigious event showcasing a variety of bridal fashion and jewelry trends and a mind-boggling range of bridal accessories required by a bride from the Asian Subcontinent. Amazing opportunity for lifestyle, clothing brands to showcase their line of products and generate buzz
International Women's Day (March 08): International Women's Day is celebrated on every year and is a focal point in the movement for women's rights. Media buzz around campaigns done by brands across the world. Campaigns are usually designed as eye openers and based on social causes.
FICCI Frames (March 12): FRAMES is a three-day global convention covering the entire gamut of Media & Entertainment. It is attended by nearly 2000 Indian and 800 foreign delegates encompassing the entire universe of media and entertainment thus making it a place to pay a visit. Media coverage on the lines of participation from different brands, industry leaders, film fraternity, media and entertainment industry and others
Holi (March 20): A symbol of the triumph of good over evil, Holi marks the onset of spring and is also celebrated to show gratitude for a good harvest. Skincare tips and products are a must during the festival and so is the chance for brands to communicate with consumers.
International World Water Day (March 22): The United Nations General Assembly devoted this day as a means of focusing attention on the importance of freshwater and advocating for the sustainable management of freshwater resources.
Emtech Digital 2019 (March 25): Mint and MIT Technology Review bring the 3rd chapter of EmTech India, an iconic platform where technology, business, and culture converge. Opportunity for startups and businesses to get media mileage in one of the leading newspapers of the country- Mint
Earth Hour Day (March 30): Started by the World Wide Fund for Nature (WWF), Earth Hour is a worldwide one-hour event that aims to unite people in their effort to save the planet. All over the world, participants are encouraged to turn off lights and all non-essential electric components. Brands across the globe leverage the occasion to come up with innovative campaigns.
#Trends
Appraisal + Hiring: Many companies announce the process of appraisals at the beginning of the month which directly reflects an employee's behaviour towards the company. Also, a trend is seen within a company to hire new talent. Tips on how to retain the existing talent and attract new talent will be good.
Ultimate PR Calendar for India: April 2019
April Fool's Day (April 01): A day to celebrate and play pranks on each other. Occasionally few brands leverage the day by playing pranks on consumers.
Navratre (April 06): This festival has a lot of significance in India especially for Hindus and Bengalis who celebrate these '9 days' with great fervour. Facts & tips on fasting, fasting recipes and the importance of the festival should be discussed.
World Health Day (April 07): An opportunity to draw worldwide attention to a subject of major importance to global health with a theme for each year. This day is another reason to motivate people to follow health resolutions or start being concerned about it. Brands across the world roll out campaigns on different issues related to health. Good opportunity for media mileage.
Vaisakhi (April 14): Vaisakhi has been a harvest festival in Punjab – an area of northern India and also marks the start of the Punjabi New Year. News coverage on Festival celebration.
Good Friday (April 19): For us, all Fridays are good. But the significance of this Friday is that falls before Easter.
India Internet Day (April 25): A leadership conference hosted by TiE that looks at setting conversations around vision 2020 for the industry
#Trends
Financial New Year: Beginning the FY19
Approaching Summer Season: As the summer season sets in, a lot of brands from fashion, beauty, fitness to consumer durables can launch a new range of products that are season's perfect fit.
General elections are due to be held in India between April and May 2019 to constitute the 17th Lok Sabha. Stories around the next expected ruling party have been in the news since the beginning of the year and will continue to follow.
Ultimate PR Calendar for India: May 2019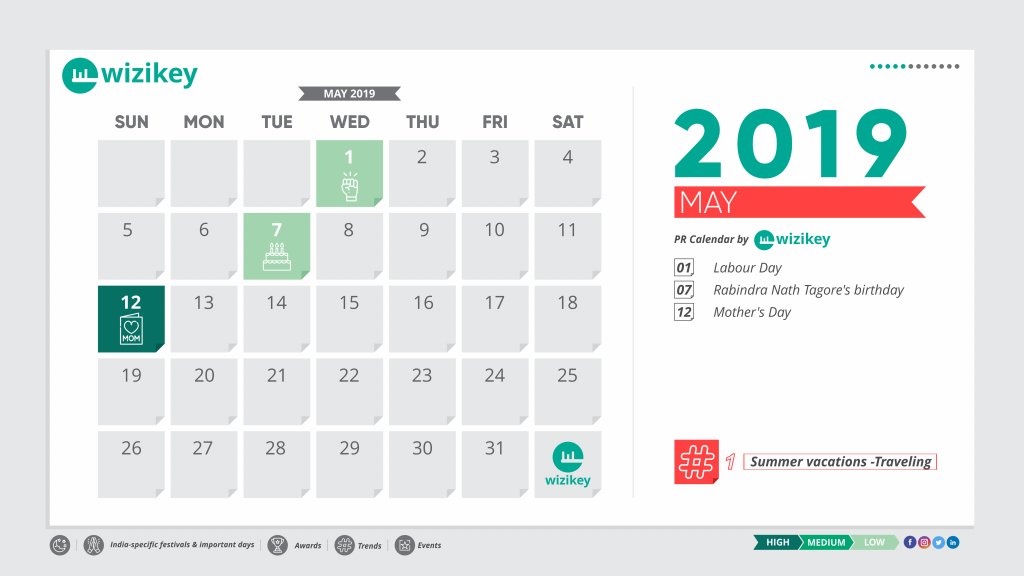 Labour Day (1st May): In India, this day is celebrated to honor the contribution of working. Opinion articles, contributory pieces on the state of labor class, initiatives taken and others are done
Rabindranath Tagore's birthday (7th May): The most famous poet, Rabindranath Tagore's birthday is celebrated on this day. News coverage on his journey, contribution, and lineage
Mother's Day (12th May): Mother's Day is a beautiful occasion that honours and celebrates the unmatchable and vital role of a mother. In a modern time celebration, kids plan various surprises and gift to make her feel special. Brands across the globe channelise their creative powers and come out with amazing campaigns. Media buzz around campaigns and their distribution
#Trends
Summer vacations – Travelling – Summer vacation is an annual break during the academic year. During this team, family travel plans are on the rise which gives brands an opportunity to talk about travel destinations, resorts, and travel planning tips.
Ultimate PR Calendar for India: June 2019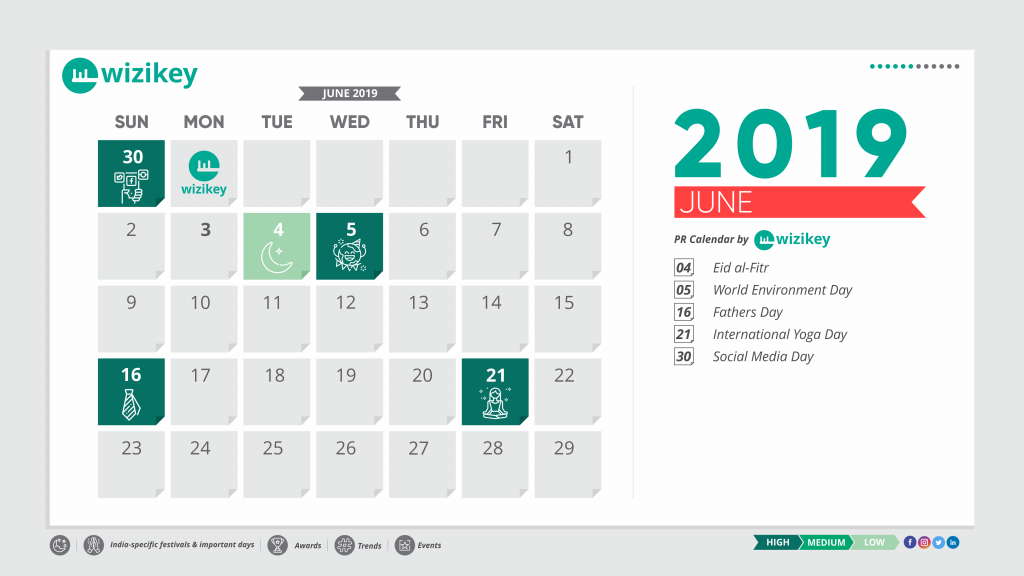 Eid al-Fitr (4th June): Eid-Ul-Fitr is a festival that marks the breaking of a fast and is celebrated by Muslims across the world. Let's celebrate together and teach the country how to make the traditional Eid sweets.Festival celebrations media coverage
World Environment Day (5th June): To raise awareness about protecting the environment, the United Nations (UN) has designated June 5 as World Environment Day. Initiatives are taken by brands to create awareness and impact toward building a safe environment.
Fathers Day (16th June): This day celebrates fatherhood and male parenting worldwide. Brands shall take note of this opportunity and prepare a list of products, services or experiences that can be gifted to a Father. Brands across the world drive campaigns saluting the efforts of fathers and male parenting
International Yoga Day (21st June): Every year, International Yoga Day is celebrated across the world in order to raise awareness about yoga and the many health benefits it can provide. Articles around sharing tips from experts on benefits of yoga, campaigns by brands across the country
Social Media Day (30th June): A day to celebrate the platforms, we can't stay away from and also help our brands in the cheapest way to reach their audience.
Ultimate PR Calendar for India: July 2019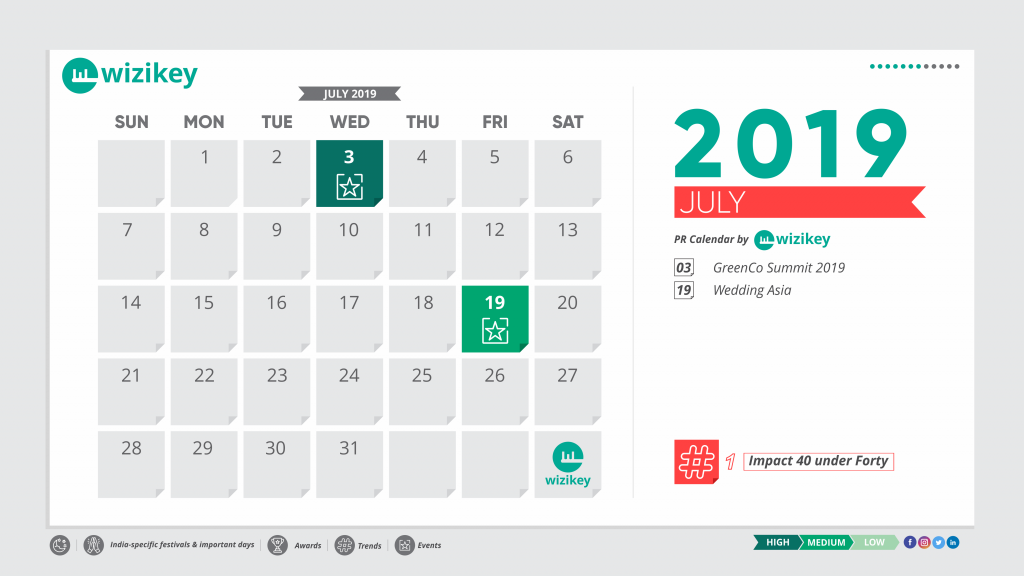 GreenCo Summit 2019 (July 03): To further advance the need & importance of Green initiatives in Indian industry and share the latest green concepts & technologies, CII is organizing the 8th edition of the GreenCo Summit which aims at fostering and promoting sustainable models.
Wedding Asia (July 19): Wedding Asia is the bridesmaid every 'bride-to-be' needs. Embark on planning the quintessential wedding trousseau stories.
Ultimate PR Calendar for India: August 2019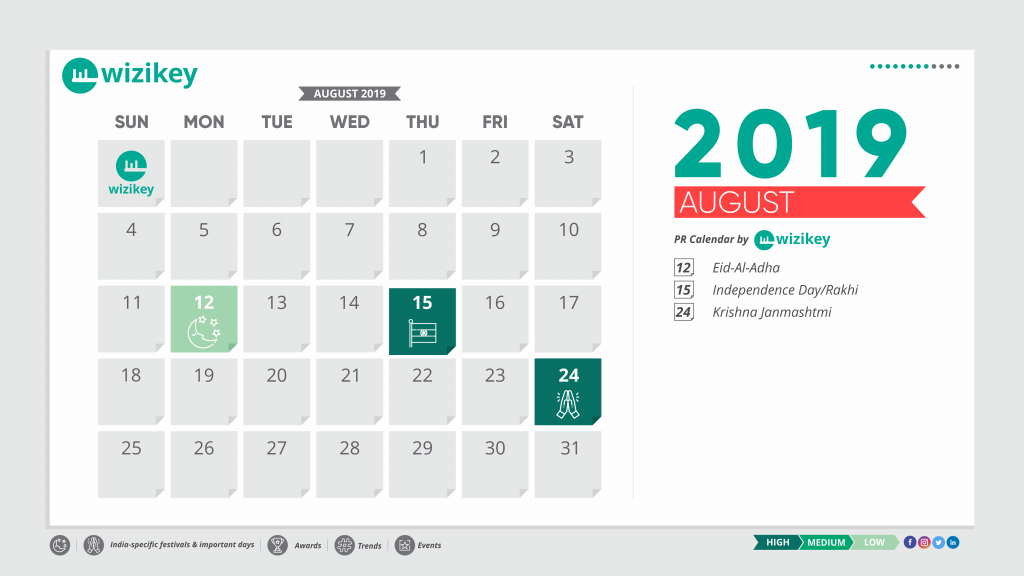 Eid-Al-Adha (12th August): Eid al-Adha aka Bakrid is a Muslim festival that signifies Abraham's willingness to perform the ultimate sacrifice – that of his son Isaac – at the command of God. Stories around how the festival is celebrated in different parts of the country
Independence Day(15th August): Independence Day marks the end of British rule in 1947 and the establishment of a free and independent Indian nation. Many brands run campaigns during this time which establishes a connection with their audience by encouraging patriotism. Media buzz around brand campaigns mostly based on patriotism and social causes
Raksha Bandhan (15th August): Raksha Bandhan is that time of the year when siblings, especially brothers and sisters, celebrate the bond of compassion and trust. Brands across the country come up creative campaigns during this festival
Krishna Janmashtami (24th August): This festival celebrates the birth of Lord Krishna. News around celebrations across the different cities especially mathura and vrindavan (birth place of Lord Krishna)
Ultimate PR Calendar: September 2019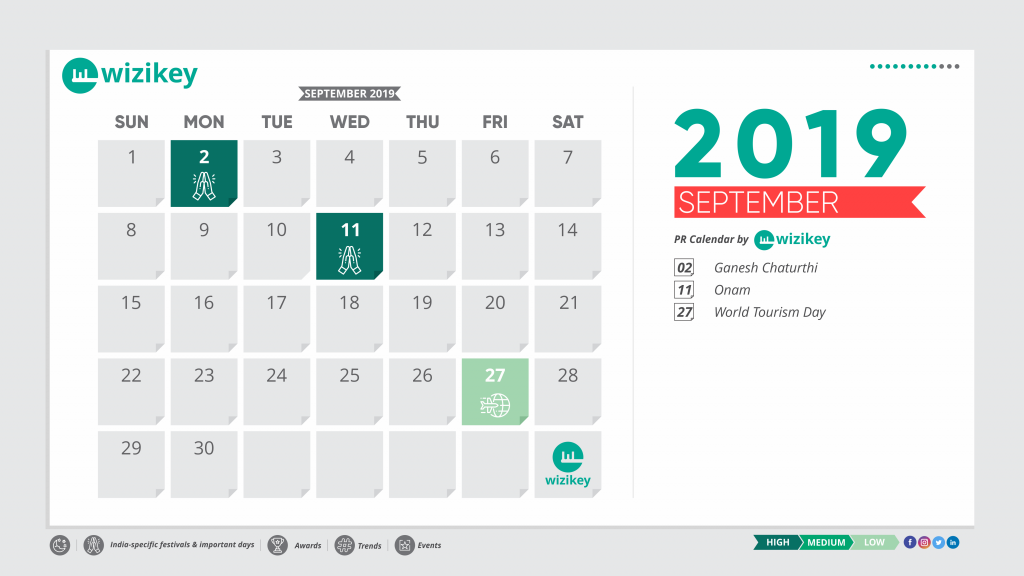 Ganesh Chaturthi (2nd September): This festival is celebrated widely in Maharashtra as well as other states in India.News around festival celebrations across different places
Onam (11th September): Onam is one of the most popular and significant harvest festivals of Kerala. The festival is celebrated by the people to welcome the homecoming of their dearest legendary King Mahabali into their homes.News around festival celebrations across different places
World Tourism Day (27th September): Its purpose is to foster awareness among the international community of the importance of tourism and its social, cultural, political and economic value. All those tourism and travel trends, industry forecast and travel destinations make a lot of sense during the month.
PR in India 6 Key Dates: October 2019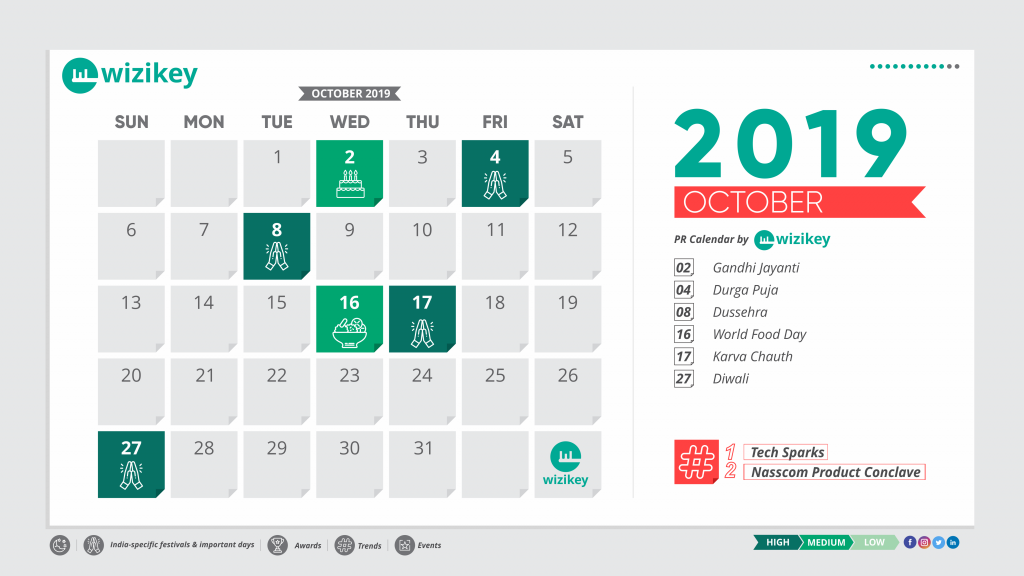 Gandhi Jayanti (2nd October): Celebrated as the birth anniversary of Mahatama Gandhi, country observes a national holiday on this day. As a brand, you can write articles reflecting principles, truth, wisdom and independence of the country.
Durga Puja (4th October): For Bengalis, Durga Pujo is one of the most auspicious and celebrated festivals in India that is celebrated on the homecoming of goddess Durga. Many brands come up with different and interesting campaigns to celebrate the festival and share campaign success stories.
Dussehra (8th October): This auspicious day of victory of good over evil is celebrated in different ways in various parts of the country.
World Food Day (16th October): World Food Day is celebrated in more than 150 countries, where the events promote worldwide awareness and action for those who suffer from hunger and for the need to ensure food security and nutritious diets for all.
Karva Chauth (17th October): It is celebrated in the northern part of India where women begin preparing for Karva Chauth a few days in advance, by buying cosmetics, traditional jewelry, and puja items. Share some tips to easy and healthy fasting for the ladies and cashbacks on brands that they love to buy.
Diwali (27th October): Diwali is celebrated in most parts of India and associated with exchanging traditional sweets and gifts. It is the time to share unique gifting options and including your brand in creating a #HappyWaliDiwali
#Trends
Tech Sparks: TechSparks has been the best platform to showcase, meet and connect the leaders of India's startup ecosystem with those set to create disruption. It is where the pioneers and legends gather together to work to make the dream of a digitally empowered India a reality
Nasscom Product Conclave: The conclave reaches out to leaders and speakers to show us the path to take, how to dream bigger, what pitfalls to avoid and truly build revolutionary high growth products
November 2019 PR Calendar Key dates:
World Diabetes Day (14th November): The purpose of this one day is to raise awareness of diabetes and urge people to learn more about the warning signs of diabetes. Keep a look out for this year's theme and raise awareness through tips, articles, reports, etc. Opinion article or contributory article for creating awareness on how you can prevent diabetes
International Men's Day (19th November): #MenToo, yes, you read that right! This day is celebrated to raise awareness about men and mental health. So let's talk about men's health and improving physical strengths through dedicated campaigns.
#Trends
TiECon Global Summit 2019: TiE Global Summit is the largest Global Entrepreneurial Leadership Summit across the globe and brings together the TiE community from across the world to create an unparalleled global platform for entrepreneurs
Forbes India 30 under 30: Forbes India 30 under 30 is a unique initiative to facilitate the young achievers who are already peak performers in their chosen fields.
PR Calendar for India: December 2019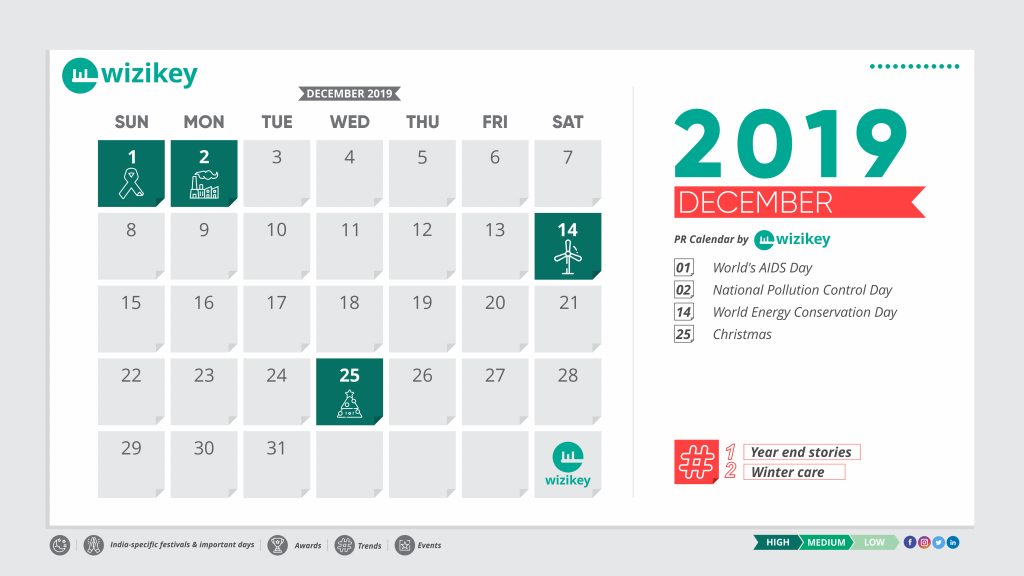 World's AIDS Day (1st December): This day is held to spread awareness about the AIDS disease caused by the spread of HIV function and remembering those who have died of this disease. Raise awareness of the disease with precautionary tips for the public.
National Pollution Control Day (2nd December): To give a tribute to those who lost their lives in the Bhopal gas calamity, this day is held to honor them.
World Energy Conservation Day (14th December): Globally celebrated, world energy conservation day is held to raise the importance of energy consumption and its use in our day-to – day life. Plan a story on how your brand is helping in energy conservation.
Christmas (25th December): Christmas is celebrated all over the world commemorating the birth of Jesus Christ. Stories around gifting are the best way to reach out to your target audience.
#Trends
Year-End Stories: It's the end of another wise year and sharing brands' successes throughout the year is a great recall of the wonderful year
Winter care: Winter is the time when people see alot of changes on their body from hair to skin to eyes and everything else. There's always room for a winter routine containing essential products and tips through which one can take care of themselves